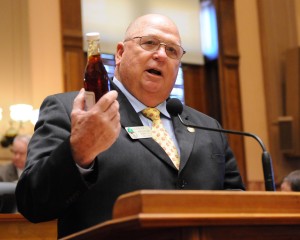 Ellis Black has been a strong conservative leader who has a proven record of fighting for us. No matter how tough the fight, as our Representative, Ellis has always stood strong for our conservative ideals. He has fought for us. He's never backed down and he never will.
Ellis Black's Conservative Record:
Stopped the spread of Obamacare in Georgia.
Passed pro-jobs reforms that have made Georgia the #1 state to do business
Balanced the budget by cutting wasteful spending and taxes.
Secured nearly $1 billion in funding for our public schools.
Protected our farmers and promoted Georgia agriculture.
Passed laws to expand and protect our 2nd amendment rights.
2014 Legislative Session Recap:
HB 744 – FY 2015 Budget
The state budget from July 1, 2014 through June 30, 2015 will be a total of $20.8 billion.  Three segments of the budget account for nearly 86% of total spending; Education (54.1%), Health and Human Services (23.1%), and Public Safety (8.4%).
The FY 2015 Budget demonstrates Georgia's commitment to be responsible stewards of taxpayer dollars.  A few specific elements of spending include:
The FY15 budget represents the largest single education funding increase in seven years with 72% of the $916 million in new revenue dedicated to K-12 and higher education.  The General Assembly understands that – in the wake of the devastating financial crisis of 2008 – the smartest investment our state can make is in education.
$166.2 million to fully fund Quality Basic Education (QBE) enrollment growth of 1.25% for 21,074 students, as well as training and experience for teachers
$12.2 million for the HOPE Grant to provide full tuition assistance for technical college students who maintain at least a 3.5 GPA and for strategic industries workforce development grants
An additional $1 million for the Georgia Trauma Care Network Commission to enhance trauma services available statewide
$250K to the Department of Public Health for early detection and diagnosis of autism in children
$240,000 for training of early autism intervention providers to support families receiving early intervention services
The budget also provides for coverage of the treatment of autism spectrum disorders (ASDs) effective January 1, 2015 for members of the State Health Benefit Plan
HB 60 – GA Right to Carry Act
This legislation's primary focus is to expand the Second Amendment rights of individuals with regard to Concealed Carry Permits.  It also reforms the legal framework for those individuals found to be carrying a weapon in an unauthorized location, increases choice with regards to allowing firearms in certain locations, and grants hunters the freedom to utilize certain equipment.  Permit holders would now be allowed to carry weapons in bars and churches—subject to the approval of the property owner—as well as in government buildings without active security screening.  It gives local Boards of Education discretion in choosing whether to arm personnel at schools although such personnel would be required to complete firearms training.  The bill also includes language in honor of former Representative Bobby Franklin to prohibit the Governor from confiscating firearms or denying a person the right to possess a weapon during a State of Emergency.
HB 943 – Georgia Healthcare Freedom Act (originally HB 707)
This bill firmly establishes that neither the State of Georgia nor any of its departments will use money or human resources to advance the voluntary expansion of the state's eligibility for medical assistance in furtherance of the Affordable Care Act (Obamacare).   The measure also prohibits the State of Georgia from creating an insurance exchange in compliance with the ACA.
HB 990 – Medicaid Expansion Limitations
This bill prohibits any department, board, or representative of the State from expanding the eligibility requirements for Medicaid without legislative approval.  Without this important protection in place any future Governor could unilaterally commit the state to billions of dollars in Medicaid expansion costs without going through the legislature.  This is simply unacceptable given our commitment to responsible and balanced budgets.
SR 415 – Income Tax Freeze
This resolution proposes an amendment to the constitution to be voted on in November which would cap the state's top marginal income tax rate at 6 percent if approved by the voters.
HB 176 – Mobil Broadband Bill
The "Mobile Broadband Infrastructure Leads to Development (BILD) Act" will allow previously approved wireless support structures and wireless facilities to be modified or collocated without additional zoning or land use review as long as the proposed modifications do not substantially change the size of the existing structures.  Requirements by the local governing authority for the issuance of building and/or electrical permits remain.  The bill also provides time limitations for review of new wireless facility applications as well as caps for application fees charged by local governing authorities.  These measures will streamline the process between wireless providers and local governments, and is the result of significant compromise discussions between stakeholders.
HB 348 – Alternative Fuel Vehicle Tax Credit
This legislation would provide a tax credit for both medium-duty and heavy-duty alternative fuel vehicles (defined as those operating on electricity, liquid petroleum, natural gas, or hydrogen) to encourage vehicle fleet owners to convert their fleets to alternative fuel vehicles.  The tax credit is limited to $2.5 million each year beginning in 2016 and ending in 2017.
HB 697 – Establishing the Zell Miller Grant
This legislation expands the Zell Miller Scholar designation to the HOPE Grant program for technical college students. The Zell Miller Grant Scholar is awarded the difference between the HOPE grant amount and the current academic year's tuition. Eligibility is determined on a semester or quarterly basis.  Expanding the Zell Miller Scholar program to our technical schools is a clear statement the cost of higher education should not be a barrier to success both for traditional and non-traditional Georgia students.
HB 786 – Nonresident Infant Lifetime Sportsman's License Act
Currently, lifetime sportsman licenses (hunting and fishing) are only available to children of Georgia residents and certain grandchildren.  This bill expands the availability of those licenses.  It allows purchase of a Type I Lifetime Sportsman's License for any children less than two years of age, no matter the residency of the child or parents.  This change will provide a positive economic impact for fish and wildlife management as well as simplify the process of obtaining a license.
HB 826 – Hazardous Items in School 
The bill provides flexibility to school authorities to modify student expulsions if a student is found to be in possession of a firearm or dangerous or hazardous item at school.  This removes the mandatory "zero-tolerance" policy for children caught with such items so school officials exercise reason and common sense in situations where a student innocently or accidently carries such an item onto school grounds.
HB 915 – Security for Minors Regarding Identity Theft
This bill provides guidance to consumer credit reporting agencies regarding requests for security freezes on minors' (defined as persons under age 16) credit information in the case of identity theft. Specifically, it classifies minors as "protected consumers" and stipulates the requirements and steps necessary to freeze and unfreeze a minor's credit information.  This legislation better enables both parents and guardians to protect their children's identities from fraudulent use through the security freeze process.
HB 958 – Entertainment Industry Tax Credit & Sales Tax Holiday for School Shopping
This legislation renews the $25 million dollar tax credit for qualified interactive video game production.  Certain thresholds must be met by the companies applying for the credit such as a Georgia employee payroll of $500K and total gross sales of $100 million.  The intention behind these qualifiers is so that the credit is utilized as intended, by legitimate companies.  The legislation also renews the back to school and energy star sales tax exemptions for two more years.
SB 98 – Federal Abortion Mandate Opt-out Act
This bill addresses the Affordable Care Act as it relates to exchanges and excludes from coverage an elective termination of pregnancy.  It also codifies a funding decision made by the Department of Community Health Board last Fall that provided that the SHBP will not cover elective abortions.  The language in this bill reflects the current plan as it is being administered.
SB 273 – Georgia Maternal Mortality Review Act
According to the Centers of Disease Control (CDC), Georgia has ranked 50th or near 50th for many years in maternal mortality – a metric that measures the number of mothers who die during pregnancy or within a year of giving birth. To address this problem, this legislation codifies the Georgia Maternal Mortality Review Committee within the Department of Public Health and charges the committee with identifying trends in maternal mortality across Georgia. The Committee is also charged with generating reports and recommendations for improving maternal mortality rates.
SB 281 – Health Savings Account for SHBP
This bill requires the State Health Benefit Plan to offer a high deductible plan that includes a health savings account.  The reason that the plan was reinstated was because Blue Cross Blue Shield removed those types of plans.  The bill only mandates a plan be offered, not that the plan be utilized.
SB 320 – Establishing a Veteran's Court Division
This legislation establishes a Veterans Court Division specializing in the treatment of defendants who are veterans in order to ensure their successful reentry into society.  Veterans Courts would operate veterans' treatment programs that include judicial supervision and drug and mental health testing to rehabilitate veterans based on their unique needs.  Veterans who complete such programs would be eligible to have their sentence reduced.
SB 358 – Missing Children Information
This bill increases the number of people that have the ability to file a police report for missing children.  Those that are given the opportunity now include caretakers, governmental units responsible for the child, and other persons with legal custody of the child.
SB 364 – Juvenile Justice Reform Clarification
This bill represents the third phase of Criminal Justice Reform measures recommended by the Georgia Council on Criminal Justice Reform involving Georgia's adult and juvenile correction systems.  This bill acts primarily as a clean-up to previous Juvenile Justice Reform measures.   It clarifies exclusive original jurisdiction, requires a guardian ad litem in a termination of parental rights proceeding, and protects biological fathers through enhanced notification procedures.  The bill clarifies the timing of continued custody hearings and when the court shall inform the parties of the hearing.  The bill also clarifies when a bench warrant may be issued requiring a child's presence and what facilities may be included to give credit for time served.
*Legislative Summary provided by the House Republican Caucus*